Over the past 12 Months, DNA Worldwide Group has been building on its foundation of putting people and relationships first. Today we have a passionate and strong team that is truly supporting individuals to reach a point of truth in their lives.
With three core business areas our purpose to deliver truth, education and relationships sets us apart.
With DNA Legal we bring a responsibility to family and work life. With Living DNA we help people understand the fact "We are All Made Up of All of Us". 
As a business we understand that the quality in the way we work and the way we take care of ourselves has a direct impact on the quality of service we provide to our customers.
To win Business of the Year 2016, the first award the company has ever entered, is a great honour and confirmation of the work we do every day.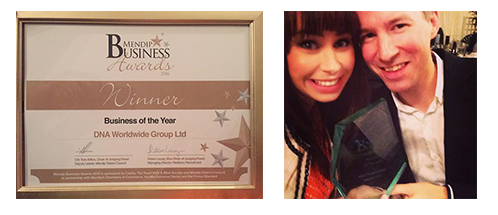 David Nicholson, Managing Director, says; "The work we do changes peoples lives, it's both humbling and confirming to feel that the judges also recognise the importance and integrity in the work we do".
The award would not be possible if it were not for the effort the team delivers, the numerous partners we work with and the great collaborations we've built across the world.
It's also with great appreciation to our business mentors, friends and the families of all those working with DNA Worldwide who support the business to thrive.
The Mendip business awards is designed to highlight leading businesses from across the Mendips. Each year from a pool of thousands of business across the Mendips a few are selected as finalists, each offering something unique and inspiring.