Every DNA Worldwide Test examines up to 68 DNA Markers
Guaranteed Conclusive Paternity Test or Money Back
Sibling DNA Tests Conclusive in over 99% of cases
Over Twice as Accurate as any other DNA Test
Testing up to 68 DNA Markers (compared to just 15)
Every test run twice to ensure 100% accuracy 
ISO:17025 accredited and ISO9001 certified
Personal care & support call 01373 751 131
Highest Accuracy DNA Test in the UK
DNA Worldwide tests up to 68 DNA Markers compared to the standard 15 Markers. This provides not only the highest accuracy test available but also means a significantly lower chance of an inconclusive result.
Simply put the more DNA Markers tested the more reliable the test.With many factors resulting in inconclusive results, DNA Worldwide have developed a solution to this industry-wide problem.
Example 1 - Paternity Test
We often hear about clients who have had DNA testing conducted by a Laboratory that can only test 16 DNA markers or less. The example below shows when an alleged father and child were tested using 16 markers. Even though the father and child matched at all 16 areas of the DNA the statistics were still too low to be conclusive. In the case below they were just over 78%. Using the advanced testing methods at DNA Worldwide when testing up to 68 markers we were able to provide a 99.99% positive proof of relationship.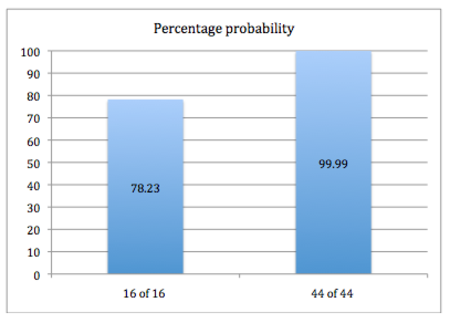 Example 2 - Sibling Test
Most labs who test 16 areas of the DNA for Sibling test advise there is an 80% chance of a conclusive result. This is correct however the example below shows just how important testing an increased number of markers is.
The individuals below know they are full siblings and needed to provide genetic proof for the UKBA as part of an immigration application. When the initial 16 markers were tested this shows a 94.76% chance they are half sibling as opposed to full siblings. As the results were over 90% most companies would consider this conclusive.
However when the remaining markers were tested (up to 68) the results were opposite and showed that the two individuals were indeed full siblings with a 98.84% probability of relationship. This shows just how important testing additional DNA Markers is for any case.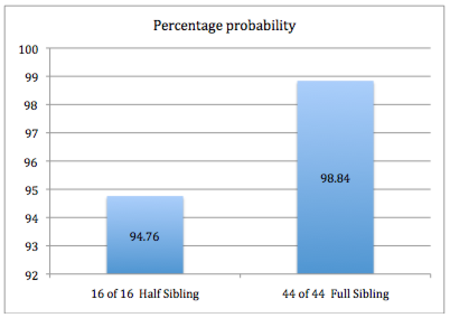 Example 3 - Aunt/Uncle Test
When looking to establish a relationship with a child and their Aunt or Uncle it is quite common that a result could be inconclusive when testing just 16 markers. The case below shows that with 16 markers tested and matches there was a 27.4% chance of an uncle relationship. This made it appear that the uncle was more likely unrelated.
In order to secure a result we ran additional marker testing and the results came back with a 98.72% chance of a relationship therefore providing a conclusive result to the family.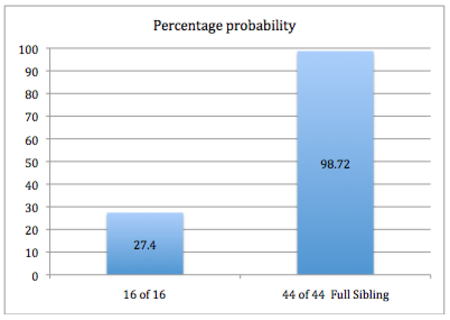 Example 4 - Grandparent Test
When we test for grandparents it is often because the father of the child is no longer available. In the case below we tested the alleged grandparents, child and the mother of the child. With the first 16 markers we ended up with a 55.34% result which is clearly inconclusive, by expanding the number of markers tested we were able to provide a 99.99% probability of a grand parent relationship.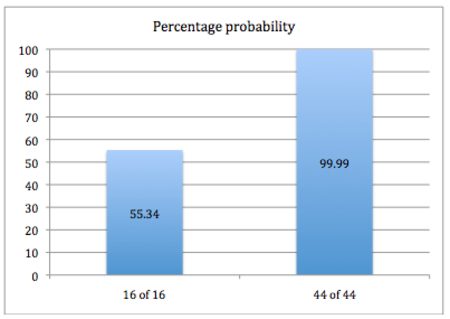 Why Markers Matter
Inconclusive results are a real problem for the industry, the DNA Worldwide test solves this problem and significantly reduces the chance of an inconclusive result.
Testing 16 Markers results in 20% of sibling tests being inconclusive (1 in 5 customers do not get a result) by using the DNA Worldwide Advanced testing method (68 Markers) this is reduced to just 1%.
Advanced & Accurate
Carrying out a DNA Worldwide DNA Test is simple. Our Advanced testing of up to 68 DNA Markers provides the most accurate result in the world.
For peace of mind tests a discreet mouth swab kit is sent to you along with clear instructions to collect the DNA from each person taking part.
Legal Tests require either a Nurse to visit each person taking part or we will arrange an appointment at their local GP or Walk In Clinic.
Testimonials
Anita Phillips
"Very quick service. Easy to use. Professionally presented."
Menasi Mupazi
"Very professional. Acceptably high transparency in the whole thing. Excellent. "
Emma Chappell
"Fantastic and Speedy Service and happy with the result. Thank you for your help"